A company part-owned by deceased businessman Frank Costa and the Sydney-based Ross family has failed to get a green light to demolish parts of a heritage Melbourne malthouse and replace it with an eight-storey office, despite arguing the development's merits through high-profile barrister Stuart Morris, QC.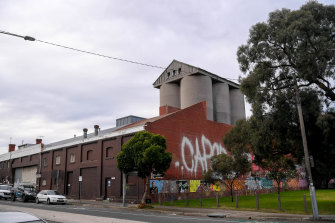 Mr Costa's company lodged project plans to convert the inner-city Burnley site at 45 Gibdon Street, the Barrett Burston Maltings malthouse and grain silos, into an eight-storey mixed-use building, with offices, home offices and 77 residences.
The project was stalled at the Victorian Civil and Administrative Tribunal for more than a year when one of the members hearing the case was diverted to oversee a project to move the tribunal's entire planning proceedings online in response to the coronavirus pandemic.
However, the tribunal ultimately ruled against the new office plans on the grounds they breached the local council's maximum three-storey building height limit for the area.
The malthouse and silos are located in a residential zone with a heritage overlay, a significant impediment to any prospective development. Burnley is a former industrial suburb in the city's inner east.
Loading
Mr Morris argued at the hearing the new construction was an "extension" of the existing silos, which should be classed as being eight-storeys high, and the project should be allowed to proceed on that basis.
But tribunal members Carol Daicic and Jane Tait colourfully likened making a decision about the "intensely contested" case to navigating a complex road intersection full of distractions and dead ends.
"We think it is best described as navigating a series of super-sized roundabouts at complex intersections. On each path, there are multiple approaches and exit ramps to navigate, alongside all manner of things which can complicate the intersection such as a tram line, a sky rail, bike lanes, pedestrian crossings, low hanging trees and the occasional blind spot," they said.