James Packer is highly committed to selling his stake in Crown but is understood to be not willing to accept any of the proposals currently on offer from Blackstone, Star Entertainment or the Oaktree proposition that was revised on Tuesday.
None have hit the sweet spot for Packer, who sold a 10 per cent stake in Crown to Melco in 2019 for $13.
Using strict valuation criteria the most generous offer to all Crown shareholders of $12.35 per share has so far been tabled by Blackstone. While that overture was rejected by the Crown board the Packer camp will be hoping that Blackstone has more in the tank and will return to the auction, with some encouragement from the Crown board.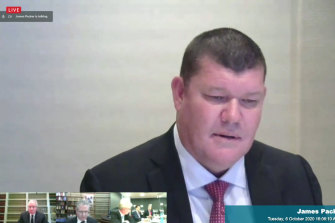 Packer's first problem is the Crown board's reluctance to engage with the sale process. The Crown board appears to be kicking the sale can down the road – presumably because it believes when the COVID and the Victorian and West Australian royal commissions into the company are over, the share price will lose the anchor of uncertainty currently weighing on its share price.
Packer's Consolidated Press Holding (CPH) and another of Crown's large shareholders, Perpetual, have made it clear that they want the Crown board to encourage the bidding process. Instead Crown's board has already rejected Blackstone's $12.35 indicative cash offer and is understood to be having its first set of serious meetings with Star this week – more than a month after the merger proposal was announced.
Crown is yet to offer any of the would-be suitors due diligence. The implied price of Star's offer is well below the current trading price. But Star argues its (mainly scrip) offer values Crown at a prospective $14 when synergies are included.
Meanwhile, CPH has received nothing from Oaktree about its proposal – which is to selectively buy-back Packer's 37 per cent stake.
Under the new terms of the Oaktree proposal – the US hedge fund is offering an implied price of $12.50 per share to acquire Packer's stake. The mechanics of this deal involve Oaktree providing Crown with the funding to selectively buy back Packer's stake. Part of this will be by the way of a loan and the remainder will be through debt, which would ultimately convert to a 10 per cent stake in Crown at a $13 per share strike price.
It is a complex transaction that requires Oaktree to overcome a number of obstacles. The first of which are the ugly optics of offering Packer a premium for his shares – that other shareholders would not receive.